Ductless Air Conditioning in Rochester, NY
If you have a room in your Rochester, NY area home or commercial space that you'd like to be more climate-controlled, but you're concerned about having to install additional ductwork, you may want to consider a ductless air conditioning system from John Betlem Heating & Cooling. Where ductwork is impractical or even impossible, a ductless air conditioning system is a cooling option that can make those spaces more comfortable. Ductless air conditioning systems are high-efficiency cooling systems that allow you to keep spaces with no ductwork as comfortable as those that do. Ductless systems can also be used to balance out hot and cold spots, increase the energy efficiency of surrounding spaces, or provide precision temperature control in areas where storage and data needs protection.
John Betlem's qualified, skilled technician will install your ductless air conditioning system directly on the wall or ceiling of your Rochester, NY home. Designed to blend well with virtually any décor and unlike window units that block your view, ductless systems provide non-obtrusive, quiet cooling – so what you'll notice more than anything else is the improved comfort level of your home. And, because John Betlem provides expert installation, we can install your ductless air conditioning system in just a few hours, with no patching, painting or ductwork required. And, any living or working space without ductwork is probably a good space for ductless air conditioning. Ductless AC works perfectly in areas like converted attics, new additions, finished basements, sunrooms, older homes, data or storage rooms, and kiosks and off-hours offices.
See how John Betlem can meet the ductless AC needs of your Rochester, NY home and more.
When you choose ductless air conditioning installation from John Betlem Heating & Cooling for your Rochester, NY home, you're working with a company that has been providing people with the best in home comfort solutions since 1941. We proudly offer ductless air conditioning from the top names in the home comfort industry, and you can count on the comfort, efficiency and quiet cooling they provide. One of our skilled technicians will professionally install your new ductless system, and we don't consider the job finished until you're entirely satisfied with the work we've done for you. What's more, when you choose John Betlem for your ductless air conditioning needs, you'll also have access to our complete range of air conditioning products and services, which includes: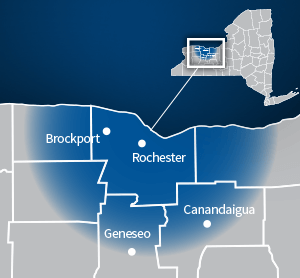 At John Betlem Heating & Cooling, everything we do is backed by our
exclusive written guarantee
. We encourage you to compare our guarantee with the limitations, fine print and exclusions other companies tend to use to back their work, and see for yourself the John Betlem difference. Enjoying better air conditioning in your Rochester, NY area home is as easy as giving us a call. We can help you get the ductless air conditioning system you need so that you and your family can experience the best in home comfort. Simply give us a call at 585.271.8888 and we will be more than happy to help you with any HVAC service need you may have.
Some of the Areas We Provide Air Conditioning Services: